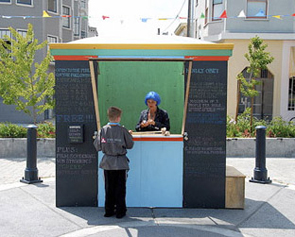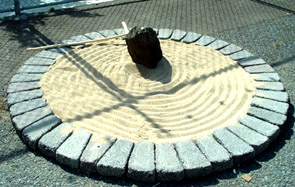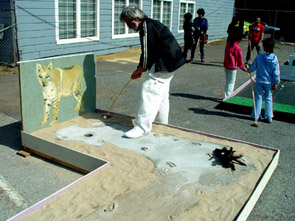 The Hayes Valley Historic Miniature Golf Extravaganza (HVHMGE) was an interpretation of the cultural and physical geography of a San Francisco neighborhood in the form of a participatory game accessible to all ages. Playing the nine hole course told the story of layers of opportunism, related spectacle and struggle, redeemed by recent neighborhood activism leading to the social and economic revitalization of a thriving community. The project was educational, challenging and fun.
We view Hayes Valley as a microcosm of San Francisco, and its neighborhood history as representative of past and present settlement patterns inherent in Westward expansion. Hayes Valley is a contemporary frontier within a frontier city, and the HVHMGE is the public art equivalent of a cinematic Western. The course traveled through 10,000 years of history, with a recurring theme of sand, the geological substrate upon which the neighborhood is built. The nine hole course was free to all, open to the public every other Saturday for a six month period. We also provided a free brochure, explaining the story behind the holes, and inviting participants to take a self-guided walking tour, with a map indicating significant sites throughout the neighborhood.

In addition to its primary thrust as an educational and somewhat eccentric romp through neighborhood history, the project explored two minor themes related to other Wowhaus site-specific projects. Sited on a previously vacant city-owned lot adjacent to Hayes Green, the project suggested replicable patterns for using analogous sites, which abound in all urban areas. The project was an exploration of contemporary vernacular and the potential for the built environment to frame dialogue and exchange; it was among a series of Wowhaus efforts to re-invigorate public life by providing wholesome, random interaction between people towards a common goal in a common place. We are also interested in the potential for craft to 'bring people to their senses'. The individual putters were all handmade, each one with a unique look and feel. Simply playing the game with these handmade clubs forced one to be fully present in space and time in a public place, which, we believe leads inevitably to good stuff. This is the last scheduled art installation on Patricia's Green. Hopefully, funds will become available for more art on the Green.